12.02.10
Patrizi Confirmed with Triple F for 2010 Enduros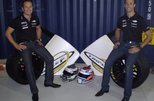 Triple F Racing has confirmed today the signing of fellow West Australian Michael Patrizi to partner Dean Fiore in the 2010 V8 Supercar endurance races at Bathurst and Phillip Island.
Commenting on Patrizi's involvement with Triple F Racing in the Enduro's Fiore said,
"I am stoked to sign Michael as my Enduro team mate, as he's been a mate for ages and will bring a wealth of knowledge and experience to the team for the endurance races later this year."
Patrizi aided with simulation pit stops with the newly formed team at the official test day on Tuesday at Queensland Raceway, before jumping behind the wheel of the Triple F Racing FG Falcon.

"I am honored to be joining Triple F Racing for the Enduro's and test days throughout the year. To be given the opportunity to race with my best mate has been a dream since we were young tackers racing go karts in Kalgoorlie," Patrizi said.

"I think via the partnership of Dean and I, it gives WA the strongest pairing for Bathurst. Having raced at Bathurst for the past 2 year, I believe I will also bring experience to the team."
"Dean is a guy that is extremely dedicated to his Job as a driver and now team owner, what he and his brothers have put together with Triple F is an extremely proffesional outfit and one that i think will get results."
"It is a seamless fit for me as i had the privledge to work with Leigh Guyer and Greg Wosster @ WSR last year and they head up Triple F's operations as Engineer and Team Manager"
"By driving with Triple F it will give me the best possible solution for my 2011 racing future."
The first of the Enduro's is the L&H 500 Phillip Island which kicks off on 10-12 September 2010, closely followed by the Supercheap Auto Bathurst 1000 on the 7-10 October 2010.
More information on Triple F racing and there progress throughout the 2010 season which kicks off next weekend at the New state of the art Yas Marina Circuit in Abu Dhabi please visit www.triplefracing.com.au